Quick navigation
All Cosmetic institute in Meyrin

Cosmetic institute in Meyrin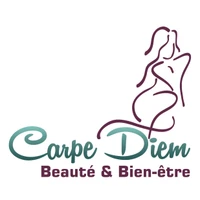 Institut Carpe Diem – Contacts & Location
Opening times Institut Carpe Diem
Unfortunately, there are no opening hours for this business.
Description
Institut de Beauté & Bien-être à Meyrin, Genève
A l'institut Carpe Diem, notre passion est de vous proposer des Soins de Qualité avec un Service professionnel dans le domaine de la Beauté et du Bien-être.
Nos prestations sont :
Prothésiste ongulaire : soins Mains & Pieds, pratiquant également la pose de gel sur ongles

Esthéticienne expérimentée : Epilations à la cire soins visage

Massage bien-être et autres Soins
Nous avons à cœur que vous receviez des prestations qui répondent à vos besoins, un conseil adapté et que les produits utilisés soient choisis pour leur efficacité reconnue et leur capacité à respecter votre corps.
Parking de 560 places gratuit 2h, en face de l'institut (Parking Meyrin Centre, mettre le disque "zone bleue").
Accès transports en commun : Bus 57 (arrêt Meyrin-Mairie) ou Tram 14 (arrêt Meyrin-Vaudagne).
Notre établissement accepte les paiements par carte.

Réservation en ligne au moins 24h en avance Institut Carpe Diem à Meyrin | Réservation en ligne sur Salonkee, sinon sur appel.
Languages

English,

French

Facial hair

Eyelash extensions,

Eyelashes & eyebrows dyeing

Forms of contact

By telephone,

Free consulting,

Online

Hair treatments

Eyebrow & eyelash treatment,

Eyebrows, nose and ear hair,

Pluck eyebrows,

Waxing

Hand and foot care

Foot care,

Gel nails,

Manicure,

Nail design,

Pedicure

Location

Close to airport,

Close to public transport,

Parking site

Massage type

Anti-cellulite massage,

Hand reflexology massage,

Massage vouchers,

Meditation,

Pregnancy massage,

Reflexology foot massage

Products

Product shop

Services & offers

Lymph drainage

Skin treatments

Anti-aging,

Care of one's face

Styling

Cosmetics,

Permanent make-up,

Wedding makeup

Terms of payment

Cash,

EUR,

Maestro,

Mastercard,

Visa

Categories
Multimedia
Reviews for Institut Carpe Diem
(3)
Services provided by Institut Carpe Diem
Epilation à la cire Hommes & Femmes
L'épilation à la cire permet d'arracher les poils ainsi que leur bulbe afin de laisser un rendu lisse. L'épilation se réalise toutes les 3 à 4 semaines. Nous utilisons de la cire tiède au miel avec bandes pour l'épilation des jambes et des bras et de la cire chaude sans bande à la fleur de tiaré pour le visage les aisselles et le bikini. Le temps de la prestation varie selon les zones à épiler.
Price
On request
Manucure & Pedicure avec options : vernis simple, vernis semi-permanent ou gel
La Quick Manucure comprend le limage et polissage des ongles, le nettoyage au niveau des cuticules, un massage des mains et une pose de vernis si demandé.
La Quick Pedicure comprend le nettoyage des pieds pour enlever les callosités, le limage des ongles, le nettoyage au niveau des cuticules et un massage.
On peut ajouter une pose de vernis simple, vernis semi-permanent ou gel pour chacune de ces prestations.
Price
On request
Onglerie : vernis simple, verni semi-permanent ou gel
La pose de gel permet de solidifier les ongles pour éviter qu'ils ne se cassent. Elle peut être réalisée directement sur des ongles naturels ou avec des capsules ou chablons pour les rallonger. Cette méthode n'abîme pas les ongles si elle est correctement réalisée.
Lors d'une dépose de gel, les ongles sont légèrement affinés, mais après quelques jours, ils redeviennent durs car nous utilisons des produits qui minimisent ce phénomène.
La pose de gel se fait environ toutes les 3 à 4 semaines selon la repousse des ongles et dure entre 1h et 1h30
Une alternative au gel est possible si on souhaite un résultat plus naturel ; Il s'agit du vernis semi permanent. C'est un vernis que l'on fait sécher sous lampe UV mais qui dure environ 2 semaines. La prestation dure environ 45min.
La pose de gel est réalisée avec des produits Akyado, et toutes les couleurs de gel et de semi permanent sont des produits OPI.
Price
On request
Massage
Accordez-vous une détente au niveau physique, mental et émotionnel qui vous reliera à une fluidité tant au niveau articulaire, énergétique et dans les circonstances de la vie de tous les jours.
Price
On request
Soins Holistiques
Des Soins travaillant sur les différents aspects de votre être, du corps à l'esprit, aux rythmes naturels, favorisant des prises de conscience profondes, durables et intégrées.
Pour une meilleure relaxation, confiance en soi, enthousiasme, équilibre personnel, clarté d'esprit.
Price
On request
A venir : Soins Visage - Soins Acné - Anti-aging
Le soin visage comprends un nettoyage de peau (pré-nettoyage, extraction des comédons, exfoliation) un masque et un massage, avec la gamme dermalogica, alliant cosmétique et pharmaceutique pour une grande efficacité
Price
On request
Similar entries in Meyrin
More in Meyrin
* does not want any advertising
Source: Swisscom Directories AG