Quick navigation
All Car rentals in Echandens
Fraikin Suisse SA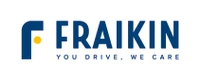 Fraikin Suisse SA – Contacts & Location
Monday

Mon

7

:

30

 to 

12

:

00

o'clock

/ 13

:

00

 to 

17

:

00

o'clock

Tuesday

Tue

7

:

30

 to 

12

:

00

o'clock

/ 13

:

00

 to 

17

:

00

o'clock

Wednesday

Wed

7

:

30

 to 

12

:

00

o'clock

/ 13

:

00

 to 

17

:

00

o'clock

Thursday

Thu

7

:

30

 to 

12

:

00

o'clock

/ 13

:

00

 to 

17

:

00

o'clock

Friday

Fri

7

:

30

 to 

12

:

00

o'clock

/ 13

:

00

 to 

17

:

00

o'clock

Saturday

Sat

Closed

Sunday

Sun

Closed
Description
RENTING SOLUTIONS FOR UTILITIES AND TRUCKS - SHORT & LONG TERM
Fraikin Suisse SA offers all types of commercial vehicles in the company car to the Semi-trailer. We offer dry and refrigerated vehicles adapted to all business sectors.
OUR BUSINESS MODEL:
Meet your expectations on specific requests or for longer periods:
Short term rental: the day in the week
average rent: from 1 to 12 months
Long term rental: We design all your vehicle for 48 months or more
We offer our clients to manage their vehicle fleets via a fixed monthly fee we include in the lease rent all expenditure relating to vehicles.
You pay the HVF gasoline and if it is of a higher utility than 3.5 T.
IDENTICAL TO YOUR ORGANIZATION OPERATING WITH ADDED VALUE
To bring you a high quality service, we have not integrated workshops, we work directly with licensed providers & locally recognized.
Your relationships with your service providers remain unchanged. You determine the dealer of your choice, your specialist in tire and car body as well as your refrigeration.
Thus, if there is one of your customers or your suppliers, your relationships are maintained!
Fraikin, YOUR DELIVERIES AT THE RIGHT PRICE
Forget your hidden costs: vehicles not used 100% or immobilized vehicle replacements on your fleet. We provide you with a replacement vehicle in the event of failure, or an additional vehicle if you are experiencing seasonality.

BENEFITS FOR YOUR BUSINESS:
Free liquidity for acquisitions in direct link to your business
fixed costs and skills: you can know your price per kilometer!
MISSION Fraikin:
Allowing you to focus on your business.
Go & Deliveries are simplified both operationally and administratively: all expenses corresponding to your vehicles is centralized on one bill.
Your drivers have a near assistance 24/24 & 7/7 on the entire SWISS & EUROPE in!

ITEMS INCLUDED IN THE DELIVERY Fraikin:
Vehicle Financing
CASCO insurance & LIABILITY
Registration, plates & fees
Advertising your business
curative & preventive maintenance
Expertise & Security Controls
tires
Replacement vehicle
Assistance 24h / 24 and 7/7
No restoration costs
A detailed description of each of these items on our site.
Languages

French,

German

Forms of contact

By telephone,

Online

Means of Transport

Bus,

Car,

Delivery Van,

Truck

Services

Vehicle Rental

Transport Routes

Land

Types of Transport

Refrigerated Transport

Vehicle types

Rental car,

Replacement vehicles

Categories
Reviews for Fraikin Suisse SA
(1)
Similar entries in Echandens
More in Echandens
* does not want any advertising
Source: Swisscom Directories AG