Quick navigation
All Plasterer in Egg b. Zürich
Fritz Grob AG
Gipsergeschäft und Stukkaturen
Jürg Hegnauer
Plasterer in Egg b. Zürich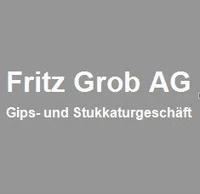 Fritz Grob AG – Contacts & Location
Monday

Mon

Tuesday

Tue

Wednesday

Wed

Thursday

Thu

Friday

Fri

Saturday

Sat

Closed

Sunday

Sun

Closed
Description
Seit über 100 Jahren Gips mit Qualität
Die Gründung der Fritz Grob AG geht auf das Jahr 1907 in Zürich zurück.
Bis 1970 war die Firma an der Drahtzugstrasse 8 in 8008 Zürich beheimatet.
Von 1970 bis 2002 hatte die Fritz Grob AG ihr Domizil in 8126 Zumikon, wobei der Sitz noch immer in 8008 Zürich blieb.
Das Atelier und Lager, sowie das Büro bestand in Zumikon. Ein Ausstellungsraum für Stukkaturen an der Drahtzugstrasse in Zürich.
2002 sind die Geschäftlichen Aktivitäten in Zumikon aufgelöst worden und der Betrieb zog mit der Stukkproduktion und dem Lager noch 8127 Forch, dem heutigen Standort.

Hier erfahren Sie mehr.
Languages

German

Applications

Commercial Buildings,

Industrial Facilities,

Residential Buildings

Forms of contact

By telephone,

Online

Location

Close to public transport,

Close to sports facilities,

Parking site,

Wheelchair-accessible

Machine and Plant Construction, Product Development

Lightweight Construction

Plastering / Drywall

Fire Protection,

Interior & Exterior Plastering

Scope

Quotation,

Remodeling,

Renovation & Rehabilitation

Services

Plastering Works

Terms of payment

Bill,

Cash,

Invoice

Categories
Reviews for Fritz Grob AG
(1)
Services provided by Fritz Grob AG
Brandschutzverkleidungen nach Mass
Auch Brandschutzverkleidungen für Stahlstützen, rund oder eckig, stellen wir nach Mass her.
Price
On request
Stukkaturen
Unsere Stukkaturen werden aus reinem Naturgips von Hand , in unserem Atelier, hergestellt und mit Jute oder naturbelassenen Fasern armiert.

In unserem Atelier in Forch/Aesch/ZH finden Sie eine reiche Auswahl an Trockenstuck. Wenn Sie eigene Vorstellungen haben, wir verwirklichen sie. Ob Büsten, Skulpturen, grafische Formen oder Phantasiegebilde, wir bringen Ihre Ideen in Form.
Price
On request
Innendämmungen
- Frinorm
- Saglan
- Calsitherm Klimaplatte Link
Price
On request
Verputzarbeiten
Ob herkömmliche Verputzarbeiten mit der Maschine oder anspruchsvolle Handarbeit, wir verputzen Ihr Haus oder auch nur Teile davon, ob im Neu- oder Umbau.
Price
On request
Dachstockbau
Ihr Haus ist zu klein geworden? Ihr Dachstock ist noch nicht ausgebaut? Ihr Keller verfügt noch über ungenutzte Möglichkeiten? Fragen sie uns an. Wir machen aus Ihren leer stehenden Räumlichkeiten Wohnräume.
Price
On request
Leichtbautrennwände / Abgehängte Gipsdecken
Ob im Industrie-, Büroumbau oder wenn Sie das Zimmer Ihrer Kinder unterteilen möchten. Mit Leichtbautrennwänden sind Ihnen (fast) keine Grenzen gesetzt.
Abgehängte Gipsdecken, ob für Akkustik oder auch nur um Installationen zu verdecken oder Ihrem Raum ein neues Aussehen zu verpassen, bei uns erhalten Sie die Lösung, welche Ihren Vorstellungen entspricht.
Price
On request
Akustikdecken
Wir verarbeiten hochstehende Akkustiksystheme wie:
- Baswaphon, www.baswa.com
- Rigips
Price
On request
More in Egg b. Zürich
* does not want any advertising
Source: Swisscom Directories AG