Teppan-Yaki
Restaurant
Japanese cuisine
Restaurants according to speciality
Contacts & location
026...Show number
026 321 49 33
Overview
Chinese, English, French, German
Beer (bottle), Cocktails, Fish, Sushi, Tea, Wine
Accepts Credit-Card, Accepts EC-Card, Cash, EUR, Maestro, Mastercard, Postcard, TWINT
Parking site, Wheelchair-accessible
Position cannot be determined.
×
Description and special features
Venez découvrir le restaurant du Teppan-Yaki, où Mme Lim vous accueillera dans la magie d'authentiques spécialités japonaises et chinoises, cuisinées selon le plus grand respect de leurs traditions.

Vous pourrez apprécier l'ambiance asiatique qui règne dans notre restaurant, accueil, fond musical et surtout de nombreuses spécialités japonaises et chinoises, dont une méthode de cuisson originale, le Teppan-yaki, avec laquelle le cuisinier fait cuire les aliments sur une plaque chauffante, tout en faisant jongler les ustensiles autour de lui, pour le plaisir des yeux de ses convives.

Vous pourrez vous délecter de sushi, de fruits de mers, de maki, de sashimi et de bien d'autres spécialités qui vous ferons découvrir les saveurs de l'Asie.

Avec notre formule buffet  à volonté, vous pourrez goûter à différents plats selon votre envie.

Nous faisons également service traiteur pour vos banquets, réception, organisation d'événement.

Nous vous accueillons avec plaisir pour vos soirées d'entreprise et fêtes de fin d'année.

Nos plats sont également à emporter. N'hésitez pas à nous contactez pour passer commande.

Notre restaurant, se situe dans un lieu d'exception, placé à l'intérieur de la merveilleuse bâtisse du Duc de Berthold, dans le quartier du Bourg de Fribourg. Depuis notre établissement, vous pourrez découvrir, la cathédrale de St Nicolas-de-Flüe, le pont de Zhaeringenet l'ancienne rue du Stalden qui vous invitera à visiter la vieille-ville.
Entre le pont de Zhaeringen et la Cathédrale de St Nicolas-de-Flüe
Ad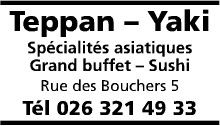 What visitors say about Teppan-Yaki
Source: Swisscom Directories AG