Quick navigation
All Office furniture in Glattpark (Opfikon)
Flokk AG - House of Inspiration
Office furniture in Glattpark (Opfikon)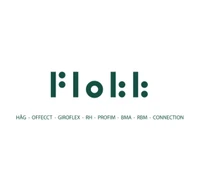 Flokk AG - House of Inspiration – Contacts & Location
Monday

Mon

9

:

00

 to 

12

:

00

o'clock

/ 13

:

00

 to 

16

:

00

o'clock

Tuesday

Tue

9

:

00

 to 

12

:

00

o'clock

/ 13

:

00

 to 

16

:

00

o'clock

Wednesday

Wed

9

:

00

 to 

12

:

00

o'clock

/ 13

:

00

 to 

16

:

00

o'clock

Thursday

Thu

9

:

00

 to 

12

:

00

o'clock

/ 13

:

00

 to 

16

:

00

o'clock

Friday

Fri

9

:

00

 to 

12

:

00

o'clock

/ 13

:

00

 to 

16

:

00

o'clock

Saturday

Sat

Closed

Sunday

Sun

Closed
Description
Flokk a house of brands to design better workplaces
Flokk is a 'House of Brands' offering a wide range of seating solutions, tables, and accessories for working spaces. Being a market leader, we feel responsible to work towards a future with a healthy climate and conscious resource consumption. We therefore continuously strive to push the standards for sustainable design and production.
As a house of brands, Flokk combines the heritage and expertise of nine distinct brands, each with their own story to tell, but united by a common goal of creating innovative designs with a strong focus on the health and wellbeing of the users and the communities around them.
You will find Flokk showrooms on four continents, and our global distribution network of dealers and retailers provide products, repairs, and servicing in over 80 countries.
The most important facts in a nutshell:
Our brands:
Our blog:
Our core competences:
Office furniture
Office chairs
Conference chairs
Office furniture
Professional office solutions
Solutions for New Work, Home Office, Workplace Design
Sustainable and environmentally friendly office chairs and office furnishings

Follow us to find more impressions and information about us:
Languages

English,

French,

German,

Italian,

Russian,

Spanish,

Ukrainian

Architecture

Interior architecture

Building renovation

Construction management

Forms of contact

By telephone,

In-store,

Online

Location

Close to airport,

Close to public transport,

Close to train station,

Parking site

Categories
Reviews for Flokk AG - House of Inspiration
(1)
Similar entries in Glattpark (Opfikon)
More in Glattpark (Opfikon)
* does not want any advertising
Source: Swisscom Directories AG