Quick navigation
All Real estate brokers and agencies in Küssnacht am Rigi
ANMAT ImmoTreuhand AG
Liegenschaftsverwaltungen, Immobilienhandel und Bautreuhand-Mandate
Real estate brokers and agencies in Küssnacht am Rigi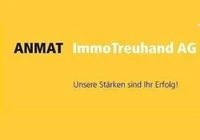 ANMAT ImmoTreuhand AG – Contacts & Location
Monday

Mon

Tuesday

Tue

Wednesday

Wed

Thursday

Thu

Friday

Fri

Saturday

Sat

Closed

Sunday

Sun

Closed
Description
Liegenschaftsverwaltungen, Immobilienhandel und Bautreuhand-Mandate .
Professionelle und kundenorientierte Dienstleistungen zu fairen Preisen ist unsere Firmenphilosphie. Ein weitverzweigtes Beziehungsnetz über die Orts- und Kantonsgrenzen hinaus bietet erstklassige Voraussetzung für den erfolgreichen Handel und die Verwaltung von Immobilien. Unsere über 40-jährige Erfahrung ist die beste Verkaufs- bzw. Verwaltungsgarantie.
Rufen Sie uns an, wir beraten Sie gerne in folgenden Dienstleistungen:
Handel von Einfamilienhäusern
Handel von Wohn- und Geschäftshäusern
Handel von Landparzellen
Handel von Eigentumswohnungen
Erst- und Wiedervermietungen
Verwaltung / Bewirtschaftung von Wohn- und Geschäftsmietliegenschaften
Verwaltung / Bewirtschaftung von Stockwerkeigentum
Beratung (Mietrecht, Stockwerkeigentum)
Liegenschaftsbewertungen
Übernahme von Bautreuhandmandaten
Gesamtberatungen für Überbauungen
Marktanalysen / Standortabklärungen für Bauprojekte
Languages

German

Analyses, valuations & appraisals

Property valuations & appraisals

Building renovation

Fiduciary services,

Planning & planning law

Consultation

Contract assessment,

Market, utilisation and location analyses

Fiduciary

Evaluation of financing solutions,

Inclusion of taxation issues,

Mortgage portfolio management

Forms of contact

By telephone,

Online

Property type

Apartment,

Retail properties,

Single-family house and apartment building

Rental

Facility management & facility maintenance,

First-time rental

Sales

Administrative processing,

Coordination/negotiations,

Support with notarial processes

Services

Consultation,

Planning, Concept and Execution,

Real Estate Appraisal,

Real Estate Purchase,

Real Estate Sale

Categories
Reviews for ANMAT ImmoTreuhand AG
(7)
Comments
(1)
Verified visit
Sehr professionell
Sehr professionelle Beratung und alles!
November 2, 2020, schildheuerclaudia
Similar entries in Küssnacht am Rigi
More in Küssnacht am Rigi
* does not want any advertising
Source: Swisscom Directories AG