Quick navigation

KAALI - Ayurveda Treatments & Massage
Dipl. Komplementär Therapeutin OdA KT Ayurveda Therapie HPS, Europäische Akademie für Ayurveda
Karolina Vogel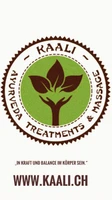 KAALI - Ayurveda Treatments & Massage – Contacts & Location
Monday

Mon

Tuesday

Tue

Wednesday

Wed

Thursday

Thu

Friday

Fri

Saturday

Sat

Sunday

Sun

Closed
Description
In Kraft und Balance im Körper sein.
Suchen Sie einen Navigator für ein erfülltes Leben?
Ich begleite Sie mit Hilfe der Ayurveda-Therapie zu neuem Wohlbefinden.
Symptome und Behandlung:

Therapie
Rückenschmerzen, Schultern- und Nackenschmerzen, Muskelverspannungen, Bandscheibenregeneration, Schmerzen am Bewegungsapparat, Burnout- Begleitung und Prävention, Innere Angespanntheit und Unruhe, Antriebslosigkeit, Stress, Müdigkeit, depressive Verstimmungen, Verdauungsbeschwerden , Kopfschmerzen, Abnehmen, Entgiften - Detox

Prävention
Gönnen Sie sich eine bewusste Auszeit und geniessen Sie eine Massage mit warmem Öl, die entspannt und harmonisiert, das Nervensystem stärkt und die Selbstheilungskräfte aktiviert und einfach happy macht!
Ich arbeite mit hochwertigen, medizinierten Kräuterölen, die ich aus dem Ursprungsland des Ayurveda persönlich mitbringe!
WIR SIND KRANKENKASSEN ANERKANNT!
Languages

English,

German

Location

Close to museum,

Close to public transport,

Close to train station,

In city center,

Parking site,

Wheelchair-accessible

Terms of payment

Accepts Credit-Card,

Accepts EC-Card,

Cash,

Contactless payment,

EUR,

Maestro,

Mastercard,

TWINT,

Visa

Categories
Reviews for KAALI - Ayurveda Treatments & Massage
(0)
Services provided by KAALI - Ayurveda Treatments & Massage
Abhyanga
Ganzkörpermassage ~ 60 oder 90 min

Eine tief entspannende und beruhigende Behandlung. Mit hochwertigen, warmen Ölen wird der Körper von Kopf bis Fuss massiert. Vitalisiert und stärkt das Nervensystem.
Price
On request
Pristabhyanga
Rückenmassage ~ 50 oder 60 min

Lockert Rücken-, Schulter- und Nackenbereich und umfasst den ganzen Rücken. Zusätzlich wird die Bandscheiben- und Knorpelregeneration unterstützt, was entspannend auf die gesamte Rückenmuskulatur wirkt.
Price
On request
Mukabhyanga
Gesichts- und Kopfmassage ~ 30 min

Löst Verspannungen der Gesichts- und Kieferpartie, der Kopfhaut, sowie im Nacken und Schulterbereich. Die Behandlung beruhigt angespannte Nerven und stärkt die Konzentration. Sie schenkt Zufriedenheit und innere Balance.
Price
On request
Padabhyanga
Fussmassage inkl. Kaash-Schale ~ 30 min

Mit filigranen, sanften Griffen werden Füsse und Waden bis über die Knie massiert. Die Beine werden entlastet und die Muskulatur geschmeidig. Hilft bei innerer Unruhe, Stress und Schlafstörungen.
Price
On request
Garshana
Massage mit Rohseidenhandschuh ~ 50 min

Eine vitalisierende und belebende Behandlung mit Rohseidenhandschuhen. Beseitigt Müdigkeit und Antriebslosigkeit. Schenkt ein Gefühl von Leichtigkeit und seidenweicher Haut.
Price
On request
Udvartana
Pulvermassage ~ 60 min

Eine anregende Massage mit Kräuterpulvern oder Kräuterpaste. Belebt und regt den Stoffwechsel an, wirkt reinigend und gewebereduzierend.
Price
On request
Pinda Sveda
«Stempelbehandlung» ~ 60 min

Diese Behandlung wird mit «Stempeln» ausgeführt. Dies sind Baumwollsäckchen, die mit Kräuterpulver gefüllt werden. Je nach Beschwerdebild werden besänftigende Kräuter oder auch sehr aktivierende Kräuter verwendet. Dies ist eine sehr intensive, tiefgehende und wirksame Behandlung. Dennoch wirkt sie auf den Geist unheimlich entspannend, da die Streichungen mit den Beuteln auch sehr entspannend ausgeführt werden können.
Die mit Öl getränkten Beutel/Stempel können nach der Behandlung mit nach Hause genommen und noch ca. 1 Woche weiter verwendet werden.
Price
On request
Svedana Box
Dampfbad ~ 10 min
Um den Reinigungsprozess zu verstärken.
Zusätzlich zu Abhyanga, Pristabhyanga, Garshana,
Udvartana und Pinda Sveda buchbar.
Price
On request
Ayurvedische Gesundheitsberatung
~ 90 min

Eine ausführliche Anamnese mit Konstitutionsbestimmung und Empfehlungen zu Ernährung und rund um den Alltag.
Price
On request
Horoskop-Deutung
Psychologische Astrologie ~ 60 min

Psychologische Astrologie eignet sich besonders für Menschen, die sich bewusst mit ihrer Entwicklung auseinandersetzen möchten. Die Analyse der eigenen Persönlichkeits- und Verhaltensstruktur fördert das Verständnis und den Umgang mit sich selbst und seiner Umwelt.
Price
On request
Similar entries in Lucerne
More in Lucerne
* does not want any advertising
Source: Swisscom Directories AG