Quick navigation

Hotel Boldern AG
Hotel, Restaurant, Seminar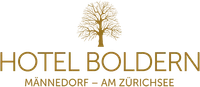 Hotel Boldern AG – Contacts & Location
Monday

Mon

Tuesday

Tue

Wednesday

Wed

Thursday

Thu

Friday

Fri

Saturday

Sat

Closed

Sunday

Sun

Closed

Betriebsferien: 17.12.22 - 01.01.23
Description
Boldern Hotel
Eingebettet in eine traumhafte Landschaft, umgeben von Wiese, Wald und See – befindet sich das Hotel Boldern – an einem Ort der Ruhe und Entspannung. Das Hotel verfügt über 59 Einzel- und Doppelzimmer mit meist traumhafter Fernsicht.
In unseren 59 Einzel- & Doppelzimmer mit meist atemberaubender Fernsicht lässt es sich wunderbar erholen – da wo sich die Füchse gute Nacht sagen und der Mond in voller Pracht zu sehen ist.
Das Fleisch aus dem Dorf, die Eier von nebenan, der Käse vom Bachtel und das Gemüse aus der Region – frischer lassen sich die Gerichte nicht auf den Teller zaubern. Im Restaurant, wie auch im Bistro & der Bar werden Sie täglich mit frischen, saisonalen Köstlichkeiten verwöhnt, nicht zuletzt auch mit Zutaten aus dem eigenen Garten.
In unserem Restaurant verwöhnen wir Sie täglich von 06.30-09.30 Uhr mit einem zünftigen Frühstück und am Mittag und Abend mit marktfrischen & saisonalen Menus. Daneben bieten wir in unserem Bistro Kleinigkeiten für Zwischendurch, Süssigkeiten am Nachmittag sowie kleine und grössere Gerichte – neu interpretiert – am Mittag und am Abend an.
Unsere 10 Veranstaltungsräume (für bis zu 200 Personen) sind auf Ihre Bedürfnisse und Wünsche ausgerichtet und tragen zum Erfolg Ihres geplanten Anlasses massgebend bei.
Languages

English,

French,

German,

Italian

Accessibility

Assistance animals welcome,

Wheelchair-accessible bathroom

Accommodation type

Business hotel,

Hotel

Ambience

Bistro,

Business,

Cozy,

Family,

Festive,

Garden,

Gourmet,

LGBTQ+ friendly,

Lounge,

Modern,

Romantic,

Stars,

Terrace

Amenities

Air condition,

High chairs,

Kids chair,

Wifi,

internet

Cuisine

International,

Regional,

Seasonal,

Swiss

Diets

Glutenfree,

Lactosefree,

Organic dishes,

Vegan,

Vegetarian

Equipment

Charging station for electric cars,

Family friendly,

Fitness area / gym,

For business trips & business,

Free Wi-Fi,

Free parking,

LGBTQ+ friendly,

Lift,

Outdoor area,

Pets allowed,

Restaurant,

Seminar rooms

Hotel standard

3-star

Location

Close to public transport,

Close to sports facilities,

Close to train station,

In the mountains,

Lake view,

Lake-side,

Mountain view,

Parking site,

Wheelchair-accessible,

With view

Meals

Breakfast

Room amenities

Desk,

Hair dryer,

Private bathroom,

TV

Service

Bicycle rental,

Late check-in

Services & offer

Afternoon snack,

Animals accepted,

Aperitif,

Banquet,

Banquette hall,

Bar,

Breakfast,

Business lunch,

Conference,

Dinner,

Event organising,

Go for just dessert,

Good for working on laptop,

Groups,

Gym,

Kids' menu,

Lunch,

Non-smoking area,

OK to order just coffee,

OK to order just drinks,

Outdoor seating,

Pay ahead,

Private events,

Seating,

Smoke-free property,

Table service,

Weddings,

Wheelchair accessible parking lot,

Wheelchair accessible restroom,

Wheelchair accessible seating,

wine selection

Specialities & dishes

Barbecue,

Burger,

Cake and sweets,

Coffee,

Fondue/raclette,

Gastronomy,

Hamburger,

Ice cream,

Local ingredients,

Salad,

Soups

Terms of payment

Accepts Credit-Card,

Accepts EC-Card,

American Express,

Apple Pay,

Bill,

Cash,

Contactless payment,

EUR,

Invoice,

Maestro,

Mastercard,

Paypal,

Postcard,

TWINT,

Visa

Categories
Reviews for Hotel Boldern AG
(131)
Comments
(44)
Verified visit
Top
Top Einzig Tisch so stelen, dass Sonne nicht hinkommt.
August 19, 2023, Frau Fässler
Frühstück reserviert - es gab kein Frühstück
Das Frühstück im Hotel Boldern war ein Geburtstagsgeschenk und als wir gestern, nach einer Reservationsbestätigung, dort angekommen sind, wurde uns mitgeteilt, dass es am Montag gar kein Frühstück mehr gibt. Das ist natürlich ärgerlich und schade. Eine sehr freundliche Dame an der Rezeption hat uns dann an die Bäckerei Steiner "vermittelt". Lecker Frühstück, aber nicht das was als Geschenk gedacht war...schade....
September 20, 2022, Alexandra Pfender
Similar entries in Männedorf
More in Männedorf
* does not want any advertising
Source: Swisscom Directories AG