Quick navigation
AAAQUINOTAXI JPB SOCIÉTÉ SÀRL
Brevet Fédéral Agent de Transports
Bapst J.-Philippe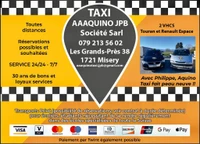 AAAQUINOTAXI JPB SOCIÉTÉ SÀRL – Contacts & Location
Monday

Mon

Tuesday

Tue

Wednesday

Wed

Thursday

Thu

Friday

Fri

Saturday

Sat

Sunday

Sun
Description
Bienvenue à Toutes et à Tous chez le Nouveau AAAQUINO TAXI
Avec Phil comme pilote , ça FILE en toutes circonstances !!!
Il n'y a que des Solutions
Avec pour but principal , satisfaire les Besoins de Chacun en toute Discrétion
Nos Services sont disponibles 24Hrs/24 et 7jours/7


Service Hospitalier / Pour des Cas d'extrêmes Urgences : Nous sommes disposés à effectuer des Transferts d'Organes d'Hôpitaux à Hôpitaux
Pour les personnes nécessiteuses : moyennant une ordonnance, chercher et amener les médicaments
Transport privé d'écolier via institut ou école spécialisée

Optionnelle :
Nous offrons également la possibilité de transports de petits matériel avec une petite remorque bâchée ( sous réserve de faisabilité )
Transferts de bagages à L'AEROPORT et vice versa

Concernant les Coûts :
Sur demande, adaptatifs
Forfait pour clientèle régulière
Animaux acceptés
Paiements Cash ou avec Twint
Supplément tarifaire de 25% de la course à venir, à effectuer, si plus de 50 Km à parcourir pour la prise en charge

La Société AAAQUINO TAXI JPB vous Remercie par avance pour Votre Intérêt éventuelle
et se Réjouit d'ores et déjà de vous rencontrer !
La Nouvelle Société AAAQUINO TAXI est Ouverte à toutes Propositions Professionnelles, disposée à d'éventuelles contrats, partenariats avec de Grandes ou petites entreprises, ainsi que pour des Privés.
Languages

French,

German,

Portuguese

Bonus offers / Discounted rates

Package deal

Booking options

Phone

Forms of contact

By telephone,

Online

Location

Close to public transport,

Close to train station,

Lake-side

Services

24/7 availability,

Luggage transport

Terms of payment

Accepts Credit-Card,

Accepts EC-Card,

Cash,

Contactless payment,

Maestro,

Mastercard,

Postcard,

TWINT,

Visa

Categories
Reviews for AAAQUINOTAXI JPB SOCIÉTÉ SÀRL
(3)
Comments
(1)
Verified visit
Tip top service
Sympathique, fiable et ponctuel. Je recommande.
January 29, 2022, saintgarin85
Similar entries in Misery
More in Misery
* does not want any advertising
Source: Swisscom Directories AG