Quick navigation
All General contractor in Moudon
Poly-Constructions Sàrl
Entreprise générale / Spécialisée dans la Maçonnerie / Étanchéité / Rénovation générale / Menuiserie, portes et fenêtres
Armel Karadolami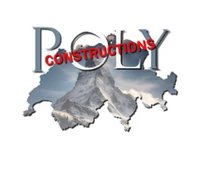 General contractor in Moudon
Poly-Constructions Sàrl – Contacts & Location
Monday

Mon

Tuesday

Tue

Wednesday

Wed

Thursday

Thu

Friday

Fri

Saturday

Sat

Closed

Sunday

Sun

Closed
Description
Isolation-Étanchéité-Résine-Rénovation-Panneaux Solaires
"Poly-Constructions est une entreprise de référence dans le domaine de la rénovation spécialisée dans la menuiserie, portes et fenêtres, Maçonnerie, Etanchéité et Aménagement extérieur, réputée pour la qualité exceptionnelle de ses travaux. Forte d'une riche expérience et d'un savoir-faire inégalé, elle est dédiée à l'art de la construction, transformant chaque projet en une œuvre durable et esthétiquement agréable.
Chez Poly-Constructions, chaque pierre est posée avec précision, chaque joint est réalisé avec le plus grand soin et chaque structure est construite pour durer. Nos professionnels qualifiés sont dotés d'un souci du détail qui se manifeste dans chaque aspect de leur travail, du choix des matériaux à la réalisation des finitions. Ils sont passionnés par leur métier et s'engagent à dépasser les attentes de nos clients à chaque fois.
Que ce soit pour une construction neuve, une rénovation, ou un projet de restauration, Poly-Constructions s'appuie sur des techniques éprouvées et sur une connaissance profonde des matériaux pour garantir la meilleure qualité possible. Nous sommes fiers de notre capacité à combiner la tradition de la rénovation avec les exigences modernes en matière de sécurité et de durabilité.
Poly-Constructions est plus qu'une simple entreprise, c'est un partenaire de confiance qui s'engage à réaliser des constructions de la plus haute qualité. Notre réputation est construite sur la satisfaction de nos clients, et nous nous efforçons constamment de l'améliorer par notre dévouement et notre professionnalisme."
Avec toute notre considération,
Languages

French

Area

New Buildings,

Renovation & Restoration,

Repairs

Areas of Application

Public Buildings

Cabinetmaking / Interior Fitting

Wall and Ceiling Cladding

Certificates and Labels

Swiss Wood

Forms of contact

By telephone,

On the customer's premises,

Online

Location

Parking site

Categories
Reviews for Poly-Constructions Sàrl
(63)
Comments
(5)
Verified visit
Excellent
Travail de qualité.tres simpatique et professionnel
September 15, 2023, hmzhasanovic
Entreprise de qualité
Entreprise de qualité et rapidité inégalable.
February 25, 2022, dqu14675
Similar entries in Moudon
More in Moudon
* does not want any advertising
Source: Swisscom Directories AG