Quick navigation

Cabinet Vétérinaire du Boiron Sàrl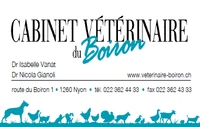 Cabinet Vétérinaire du Boiron Sàrl – Contacts & Location
Monday

Mon

8

:

00

 to 

12

:

00

o'clock

/ 14

:

00

 to 

18

:

00

o'clock

Tuesday

Tue

8

:

00

 to 

12

:

00

o'clock

/ 14

:

00

 to 

18

:

00

o'clock

Wednesday

Wed

8

:

00

 to 

12

:

00

o'clock

/ 14

:

00

 to 

18

:

00

o'clock

Thursday

Thu

8

:

00

 to 

12

:

00

o'clock

/ 14

:

00

 to 

18

:

00

o'clock

Friday

Fri

8

:

00

 to 

12

:

00

o'clock

/ 14

:

00

 to 

18

:

00

o'clock

Saturday

Sat

Sunday

Sun

Closed

Sans rendez-vous du Lundi au Vendredi entre 12h et 14h
Description
A Nyon, au service de vos compagnons
Une équipe dévouée au bien-être de votre animal
Le cabinet vétérinaire du Boiron propose une large gamme de prestations vétérinaires, qui vont de la médecine généraliste aux soins spécialisés en passant par les médecines alternatives (ostéopathie, psychiatrie animale et comportementaliste chien et chat).
Notre équipe multidisciplinaire de 10 personnes est à votre disposition 6 jours sur 7. Elle délivre tous les soins visant à conserver ou à retrouver la santé et le bien-être de votre compagnon. Notre approche des soins vétérinaires se veut harmonieuse et basée sur le dialogue: nous travaillons dans le souci permanent du confort de l'animal et avons à cœur d'apporter à son propriétaire toutes les explications qui lui sont indispensables pour mieux comprendre l'état de santé de son compagnon.
URGENCES
En cas d'urgence et en dehors des heures d'ouverture, le vétérinaire de garde est à votre service:
0900 075 011 (CHF 2.00/min.)
(L'appel est facturé par la centrale de garde).
Languages

English,

French,

German,

Italian

Location

Close to public transport,

Parking site,

Wheelchair-accessible

Terms of payment

Accepts Credit-Card,

Accepts EC-Card,

American Express,

Cash,

EUR,

Maestro,

Mastercard,

Postcard,

Visa

Categories
Reviews for Cabinet Vétérinaire du Boiron Sàrl
(13)
Comments
(2)
Verified visit
Terrible experience
Terrible experience With Nicola
October 17, 2022, egemenyorukoglu
Cabinet vétérinaire du Boiron, Eysins
L'équipe d'accueille est serviable, aimable et souriant (avis personnel). Les vétérinaires font du beau travail et essaient de faire de leur mieux... Toutefois les prix des consultations et interventions sont très très chers, donc ce n'est pas adapté aux personnes avec un budget minimal...! Ce qui amène beaucoup de personnes à faire le choix le plus terrible ou carrément abandonner leurs animaux de compagnie (..pas seulement lors des vacances...! ) Respectueusement Suzanne Tonascia
May 7, 2018, suzanne.tonascia
Services provided by Cabinet Vétérinaire du Boiron Sàrl
Ostéopathie animale
Efficaces pour soulager les douleurs physiques de votre compagnon
Price
On request
Psychiatrie animale
Efficace pour le comportement ou soulager les douleurs psychiques de votre compagnon.
Price
On request
Similar entries in Nyon
More in Nyon
* does not want any advertising
Source: Swisscom Directories AG