Quick navigation
All Estate agent in Sierre
COMPTOIR IMMOBILIER SA
PPE - Gérance
Régisseurs depuis 1825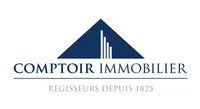 COMPTOIR IMMOBILIER SA – Contacts & Location
Monday

Mon

8

:

00

 to 

12

:

00

o'clock

/ 13

:

00

 to 

17

:

00

o'clock

Tuesday

Tue

8

:

00

 to 

12

:

00

o'clock

/ 13

:

00

 to 

17

:

00

o'clock

Wednesday

Wed

8

:

00

 to 

12

:

00

o'clock

/ 13

:

00

 to 

17

:

00

o'clock

Thursday

Thu

8

:

00

 to 

12

:

00

o'clock

/ 13

:

00

 to 

17

:

00

o'clock

Friday

Fri

8

:

00

 to 

12

:

00

o'clock

/ 13

:

00

 to 

17

:

00

o'clock

Saturday

Sat

Closed

Sunday

Sun

Closed
Description
Comptoir Immobilier SA
Since its beginnings in 1825, the Comptoir Immobilier Group has been active in the various branches of real estate in French-speaking Switzerland.
With a presence in Geneva, Nyon, Lausanne, Montreux, Monthey, Sion, Sierre and Grimentz, we offer a full range of real estate management and valuation services and advice across all our core business areas.
Key activities include building and residential property management, office and administrative centre management, and management of workshop and industrial spaces and of shopping centres.
Our expertise also encompasses the operation and letting of commercial and residential properties and the valuation and sale of properties and property portfolios.
Another important area of activity focuses on building project development and management, enterprise real estate, market analysis and studies, and accounting, tax and legal advice.
In addition, the group has a number of subsidiaries and sister companies active in the luxury sector, but also in asset management, facility management, property maintenance and cleaning.
We provide our services to clients including private as well as institutional and public-sector owners and investors, and also to users and tenants of managed properties.
Bringing projects to life. Negotiating the best deals. Optimising results. Giving sound advice.
However many and varied your needs, Comptoir Immobilier's 320 staff will provide you with professional support based on their four key values of Service, Ethics, Performance and Sustainable Development.
Languages

English,

French,

German,

Italian

Administrative Management / Apartment Handover

Communication with Tenants and Authorities

Application Areas / Properties

Commercial Construction,

Condominium,

Condominium Ownership,

Multi-Family House,

New Construction,

Residential Construction,

Single-Family House

Certificates and Memberships

SVIT

Consultation

Advice on financing issues,

Concept development,

Market, utilisation and location analyses,

Property search

Fiduciary

Bookkeeping,

Budgeting,

Mortgage portfolio management,

Valuations, expert opinions

Forms of contact

By telephone,

Online

Property type

Apartment,

Single-family house and apartment building

Sales

Coordination/negotiations,

Sales platform,

Support with notarial processes

Services

Consultation,

Financing Models,

Management of Rental Properties,

Market Assessment,

Notary Appointments,

Planning, Concept and Execution,

Property Brokerage,

Property Rental,

Real Estate Sale,

Rental Property Search

Categories
Reviews for COMPTOIR IMMOBILIER SA
(7)
Similar entries in Sierre
More in Sierre
* does not want any advertising
Source: Swisscom Directories AG