Quick navigation

HANSEN OPTIQUE
Optométristes diplômés, Examen de la vue, Lunettes, Lentilles de contact, Test permis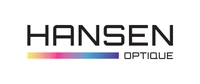 HANSEN OPTIQUE – Contacts & Location
Monday

Mon

Closed

Tuesday

Tue

9

:

00

 to 

12

:

00

o'clock

/ 13

:

30

 to 

18

:

30

o'clock

Wednesday

Wed

9

:

00

 to 

12

:

00

o'clock

/ 13

:

30

 to 

18

:

30

o'clock

Thursday

Thu

9

:

00

 to 

12

:

00

o'clock

/ 13

:

30

 to 

18

:

30

o'clock

Friday

Fri

9

:

00

 to 

12

:

00

o'clock

/ 13

:

30

 to 

18

:

30

o'clock

Saturday

Sat

9

:

00

 to 

12

:

00

o'clock

/ 13

:

30

 to 

17

:

00

o'clock

Sunday

Sun

Closed

Lundi de la St. Catherine le 22 novembre nous seront ouvert
Description
Hansen Optique SA : Eye exams & Contact Lens Fitting
Located in the heart of the City of the Sun and with over 50 years of experience, you will find personalized advice that will define your balance between aesthetics and visual comfort.
Our skills ensure you a high quality service as well as the best services in the fields of eyewear and contact lenses.
DESIGNER EYEWEAR Whether you are looking for a trendy, fashionable, vintage, classic, chic or other frame, we offer you a very wide choice of brands selected in international trade shows according to precise criteria in order to satisfy all desires.
Let our team of opticians guide you on a journey through the shapes, colors and materials of truly different glasses!
FOLLOW our news always on the cutting edge
CHILDREN'S EYES Our children's eyes are fragile and precious: choose the best quality optical and sunglasses, and always with style!
Because we are specialists, we have glasses adapted to the morphology of children, approved by ophthalmologists that best suit your needs. And treat yourself!
CONTACT LENSES In our contact lens fitting lab on the second floor, by appointment, our optometrist will advise you on all types of contact lenses, from soft to flexible, best suited to your needs.
EYE EXAMINATIONS We perform eye examinations and complete visual assessments by appointment in order to determine your correction for an impeccable quality of vision in all circumstances.
DRIVER'S LICENSE TESTS We are also approved to perform vision tests for different driver's licenses. New licenses without appointment, renewals after 75 years please contact us to schedule an appointment.
In our shop, a member of the GOV's committee is in charge of the Valais optical stores control commission, mandated by the State Councillor and head of the Health Department, Mrs. Esther Waeber-Kalbermatten.
Languages

French,

German,

Italian

Forms of contact

By telephone,

In-store,

Online

Location

Close to public transport,

Close to train station,

Parking site

Terms of payment

Cash,

Mastercard,

Visa

Categories
Reviews for HANSEN OPTIQUE
(6)
Services provided by HANSEN OPTIQUE
Examen de la vue
Nos deux optométristes sont des professionnels de la santé visuelle, régi par le code de la santé publique en Suisse. Pour effectuer votre bilan visuel, nous disposons de deux salles d'examens à l'écart de l'espace de vente, pour vous assurer calme et confidentialité. Ces salles d'examens visuels sont équipés des dernières technologies pour réaliser votre bilan optique avec la plus grande précision. Mesure de la pression sur demande.
Price
On request
Visagisme
Choisir une nouvelle paire de lunettes n'est pas toujours facile, c'est pourquoi notre équipe est à votre disposition pour vous aider dans vos choix, vous proposer différents modèles et parfois sortir des sentiers battus.
N'hésitez pas à prendre rendez-vous afin de discuter de vos envies et de vos attentes, nous nous ferons un plaisir de vous accompagner.
Price
On request
Test pour permis de conduire
Nous sommes agréé pour effectuer le test pour les permis de conduire en vue d'un changement de permis étranger ou d'un nouveau permis. Sans rendez-vous, sauf pour les renouvellements de permis après 75 ans.
Durée +/- 10 min.
Price
20 CHF
Lentilles de contact
Dans notre laboratoire d'adaptation de lentilles de contact au premier étage, sur rendez-vous, notre optométriste vous conseillera sur tous les types de lentilles de contact, des souples aux flexibles, les mieux adaptées à vos besoins.
Pour une adaptation de lentilles de contact souples à renouvellement quotidien ou mensuel vous devez compter avec un budget dès Fr. 120.- pour les différents contrôles et les lentilles test.
Price
On request
More in Sierre
* does not want any advertising
Source: Swisscom Directories AG