Quick navigation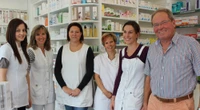 Pharmacie Cina SA – Contacts & Location
Monday

Mon

8

:

15

 to 

12

:

00

o'clock

/ 13

:

30

 to 

18

:

30

o'clock

Tuesday

Tue

8

:

15

 to 

12

:

00

o'clock

/ 13

:

30

 to 

18

:

30

o'clock

Wednesday

Wed

8

:

15

 to 

12

:

00

o'clock

/ 13

:

30

 to 

18

:

30

o'clock

Thursday

Thu

8

:

15

 to 

12

:

00

o'clock

/ 13

:

30

 to 

18

:

30

o'clock

Friday

Fri

8

:

15

 to 

12

:

00

o'clock

/ 13

:

30

 to 

18

:

30

o'clock

Saturday

Sat

Sunday

Sun

Closed
Description
La seule pharmacie indépendante
Nous vous aidons à guérir rapidement et en toute sécurité
Médication
Au sein de notre pharmacie, notre rôle consiste principalement à délivrer les médicaments prescrits par ordonnance.
Toutefois nous ne nous limitons pas à simplement délivrer ces médicaments. Pour chaque client, nous prenons le temps de discuter et d'apporter un conseil par rapport à ces derniers.
Nous vous expliquons la posologie du médicament, comment le prendre et les effets secondaires ou les contre-indications à connaître.
En plus, après avoir préparé votre ordonnance, nous pouvons vous la livrer si vous êtes dans l'incapacité de vous déplacer.
Si le médicament souhaité ne se trouve pas dans notre stock, nous nous engageons à l'avoir dans les 12 à 24 heures.
Mis à part les médicaments traditionnels, nous vendons aussi des médicaments alternatifs issus de la médecine douce (homéopathie et phytothérapie).
Un court entretien nous permet d'apprendre votre histoire médicale et de nous assurer qu'aucune interaction ne risque de se produire en combinant différents médicaments.
Ainsi, même si vous n'avez pas d'ordonnance, nous pouvons vous conseiller sur les médicaments en vente libre qui pourront vous aider à guérir de vos maux, quels qu'ils soient.
Décompte des prestations
Si vous avez besoin d'aide pour déchiffrer un décompte de prestations, nous vous aidons volontiers dans cette démarche.
Portugais
Salgesch, Salquenen, Chippis, Miège, Venthône, Veyras, Noës,
Chalais, Mollens
Place de parc sur l'Av. Centrale à 5m
Languages

English,

French,

German,

Italian,

Portuguese,

Spanish

Forms of contact

By telephone,

In-store,

Online

Location

Close to public transport

Categories
Reviews for Pharmacie Cina SA
(8)
Comments
(2)
Verified visit
ganz einfach super
immer freundliche und hilfsbereite Bedienung mit freundlichem Personal. Danke
Service
kompetente und sehr freundliche Bedienung
April 9, 2017, Dr. Christoph Imhof
Services provided by Pharmacie Cina SA
Carte de fidélité
Vos achats sont récompensés
Pour chaque franc dépensé, la pharmarcie vous verse 1 point.
En guise de bienvenue, 100 points sont crédités sur votre carte.
Pour chaque ordonnance, vous recevez 10 points.
A 300 points, un chèque de Fr. 12.- vous est offert.
Price
On request
Similar entries in Sierre
More in Sierre
* does not want any advertising
Source: Swisscom Directories AG