Quick navigation
All Garage in Sils im Domleschg

Garage in Sils im Domleschg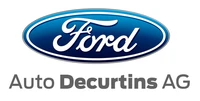 Auto Decurtins AG – Contacts & Location
Monday

Mon

7

:

30

 to 

12

:

00

o'clock

/ 13

:

00

 to 

17

:

30

o'clock

Tuesday

Tue

7

:

30

 to 

12

:

00

o'clock

/ 13

:

00

 to 

17

:

30

o'clock

Wednesday

Wed

7

:

30

 to 

12

:

00

o'clock

/ 13

:

00

 to 

17

:

30

o'clock

Thursday

Thu

7

:

30

 to 

12

:

00

o'clock

/ 13

:

00

 to 

17

:

30

o'clock

Friday

Fri

7

:

30

 to 

12

:

00

o'clock

/ 13

:

00

 to 

16

:

30

o'clock

Saturday

Sat

Closed

Sunday

Sun

Closed

Samstag Verkauf nach Vereinbarung
Description
Herzlich Willkommen bei Ihrer Auto Decurtins AG in Sils im Domleschg.
Besuchen Sie uns auch auf Facebook und Instagram
Hier ist Ihr Fahrzeug in besten Händen
Niemand kennt Ihren Ford besser als Ihr Ford Markenhändler. Fachmännische Beratung durch zertifiziertes Personal, eine moderne Infrastruktur sowie ein umfassendes auf Ihr Fahrzeug abgestimmtes Produkt- und Dienstleistungsangebot sorgen dafür, dass Ihr Fahrzeug in besten Händen ist.
Qualität
Hohe Effizienz durch top geschultes Personal
Spezifizierte Diagnosegeräte und modern eingerichtete Werkstatt
Zertifizierter Kundendienst
Dienstleistungen und Produkte
Kostenlose Mobilitätsgarantie nach jeder Wartung
Kostenloser Check von Klimaanlage und Batterie
Ihr Ansprechpartner für Wartung, Reparatur, Versicherung, Reifen, Zubehör, Garantie und vollumfängliches Schadenmanagement
Hochwertiges, sicheres und passendes Zubehör
Ford Occasionsgarantie für alle Marken
Ford Protect Anschlussgarantie
Ford Servicepakete
Ford Vignale Partner
Reparaturen und Verkauf aller Marken
Immer TOP Occasionen im Angebot
Reifen
Zusammenarbeit mit führenden Herstellern
Hochwertige Reifen für höchste Sicherheit
Attraktives Komplettrad-Programm
Reifenhotel für Sommer- / Winterreifen und Räder
Originalteile
Originalteile von Ford sind sicherer und halten länger
Vollständige Wiederherstellung nach einem Unfall
Durchrostungsgarantie für das ganze Fahrzeug bleibt bei Verwendung von Originalteilen erhalten
Wiederverkaufswert bleibt auf höchstmöglichem Niveau
Preistransparenz
Transparente Servicepreise ohne versteckte Kosten
Preisgünstige Angebote für ausgewählte Reparaturen (z.B. Bremsbeläge)
Attraktive Zubehörpakete inkl. Montage
Languages

English,

German,

Portuguese

Brands

Ford

Checks & tests

Emission tests,

Official car inspection: Implementation,

Official car inspection: Preparation,

Spring check / winter check / holiday check,

Steering geometry,

Vehicle diagnostics,

inspection

Cleaning & polishing

Engine cleaning,

Polishing work,

Vehicle cleaning

Conversion & modifications

Accessories,

Change car radio,

Tuning,

lacquering,

trailer hitch

Forms of contact

By telephone,

Free consulting,

In-store,

Online

Location

Close to public transport,

In city center,

In the mountains,

Mountain view,

Parking site,

Wheelchair-accessible

Repairs & service

Accident repairs,

Air conditioning service,

Battery service,

Bodywork / Tinsmith,

Burglary repairs,

Car repair,

Car service,

Claims settlement with insurance company,

Glass repairs,

Hail damage repair,

Key box,

Oil change,

Original spare parts,

Pick-up and return service,

Replace car battery,

Stone chips / windscreen,

Tire change,

Tire repairs,

Tire storage

Terms of payment

Accepts Credit-Card,

Accepts EC-Card,

American Express,

Bill,

Cash,

Contactless payment,

Maestro,

Mastercard,

TWINT,

Visa

Vehicle types

Leasing / Financing,

New cars,

New vehicles,

Occasions & Used Cars,

Rental car,

Replacement vehicles,

Vehicle purchase

Categories
Reviews for Auto Decurtins AG
(9)
Comments
(2)
Verified visit
Einfach Spitze!
Top Service, Freundlichkeit aller Mitarbeitenden vorbildlich!
eifach supper
sehr gut
June 21, 2017, hinterberger1952
Similar entries in Sils im Domleschg
More in Sils im Domleschg
* does not want any advertising
Source: Swisscom Directories AG