Quick navigation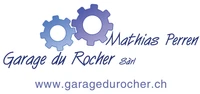 Garage du Rocher Sàrl – Contacts & Location
Monday

Mon

7

:

30

 to 

12

:

00

o'clock

/ 13

:

30

 to 

18

:

00

o'clock

Tuesday

Tue

7

:

30

 to 

12

:

00

o'clock

/ 13

:

30

 to 

18

:

00

o'clock

Wednesday

Wed

7

:

30

 to 

12

:

00

o'clock

/ 13

:

30

 to 

18

:

00

o'clock

Thursday

Thu

7

:

30

 to 

12

:

00

o'clock

/ 13

:

30

 to 

18

:

00

o'clock

Friday

Fri

7

:

30

 to 

12

:

00

o'clock

/ 13

:

30

 to 

17

:

00

o'clock

Saturday

Sat

Closed

Sunday

Sun

Closed
Description
Votre garage sur la route de Montana !
What we offer:
-Troubleshooting
-Gas station
- Replacement car
- Purchase of vehicles
- Sale of used and new cars
-Financing
- Sale of accessories and cleaning products
- Vehicle cleaning and polishing
- Car cleaning services
- Ceramic Pro Protection
- Body work and painting
- Service and storage of tires
- Brake test bench
- Vehicle diagnostics
- Maintenance and regular services
- Repairs of all kinds
- Preparation for technical inspection and verification
- Windshield replacement
- Engine overhaul
- Flushing of dual-clutch transmissions & automatic systems
- Air conditioning maintenance service
- Hydrogen descaling service for engines
- Maintenance service for commercial vehicles up to 3.5 t
- Energy production
We are partners with multi-brand as well as with Autofit
You can find our vehicles on AutoScout24 on this link
Also find our distributor where you will find drinks, chips, cheeses, raclettes, fondue for a little hunger on the road or after the road!
On your way between Sierre, Veyras, Miège, Venthône, Corin, Chermignon, Randogne, Mollens and Crans-Montana, we are available for any further information!

Languages

English,

French,

German,

Italian,

Portuguese

Brands

Alfa Romeo,

Audi,

BMW,

Citroen,

Dacia,

Fiat,

Ford,

Honda,

Hyundai,

Jaguar,

Kia,

Lancia,

Land Rover,

Lexus,

Mazda,

Mercedes-Benz,

Mini,

Mitsubishi,

Nissan,

Opel,

Peugeot,

Porsche,

Renault,

Seat,

Skoda,

Smart,

Subaru,

Suzuki,

Tesla,

Toyota,

VW,

Volvo

Breakdown and towing service

Roadside assistance

Checks & tests

Official car inspection: Preparation,

Steering geometry,

inspection

Cleaning & polishing

Engine cleaning,

Polishing work,

Vehicle cleaning

Conversion & modifications

Accessories,

Tinting car windows,

Tuning,

lacquering,

trailer hitch

Repairs & service

Accident repairs,

Air conditioning service,

Battery service,

Bodywork / Tinsmith,

Burglary repairs,

Car repair,

Car service,

Claims settlement with insurance company,

Glass repairs,

Hail damage repair,

Key box,

Oil change,

Original spare parts,

Pull out car dent,

Replace car battery,

Stone chips / windscreen,

Tire change,

Tire repairs,

Tire storage,

Used accessories

Terms of payment

Accepts Credit-Card,

Accepts EC-Card,

Cash,

Contactless payment,

Maestro,

Mastercard,

Postcard,

TWINT,

Visa

Vehicle types

Leasing / Financing,

New cars,

New vehicles,

Occasions & Used Cars,

Vehicle purchase,

Vintage cars

Categories
Reviews for Garage du Rocher Sàrl
(7)
Similar entries in Venthône
More in Venthône
* does not want any advertising
Source: Swisscom Directories AG