Quick navigation
Dr. med. dent. Portmann Klaus
eidg. dipl. Zahnarzt / Mitgl. SSO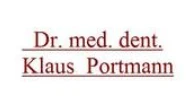 Dr. med. dent. Portmann Klaus – Contacts & Location
Monday

Mon

8

:

00

 to 

12

:

00

o'clock

/ 13

:

00

 to 

16

:

30

o'clock

Tuesday

Tue

8

:

00

 to 

12

:

00

o'clock

/ 13

:

00

 to 

16

:

30

o'clock

Wednesday

Wed

Thursday

Thu

8

:

00

 to 

12

:

00

o'clock

/ 13

:

00

 to 

16

:

30

o'clock

Friday

Fri

Saturday

Sat

Closed

Sunday

Sun

Closed
Description
Herzlich willkommen
Zahnmedizin ist Vertrauenssache. Ihre persönlichen Wünsche sind unser Auftrag, unser Ziel ist Ihre Zufriedenheit und Ihr Wohlbefinden
Ob für Beratung, Zweitmeinung, Vorsorge, Pflege, Korrektur, Reparatur oder Ersatz.

Dank langjähriger Erfahrung und ständiger Weiterbildung (jährlich über 50 Std) ist es mir möglich, Ihnen ein umfassendes Betreuungskonzept anzubieten.

Dienstleistungen:
Vollkeramischer Zahnersatz
Kronen
Veneers
Amalgamentfernung
Prothesen
Wurzelbehandlung
Schmerzbehandlung
Parodontologie (Zahnfleischbehandlung)
Oralchirurgie (Weisheitszähne)
Implantatberatung, Bleaching (Bleichen)
Zahnschutz
Kostenvoranschlag.
Marken
CEREC

Beruflicher Werdegang:
Studium Universität Bern, Abschluss 1986
danach als Assistent bei Dr. Stoller / Worb und bei Dr. Spycher / Gümligen
Weiterbildungsausweis in allg. Zahnmedizin

Besonderheiten der Praxis:
Keramikfüllungen/-kronen mit CEREC-Gerät in einer Sitzung
Schulzahnarzt der Stadt Bern

Lagebeschrieb:
Unmittelbar beim Bahnhof im Gotthardhaus (3. Stock) – im selben Gebäude befindet sich auch das Bastelzentrum. Vom Warenhaus Loeb bei ehemaliger Markthalle (TRANSA) vorbei Richtung Hirschengraben, beim Kiosk ins Gebäude rein.
Languages

English,

French,

German

Location

Close to public transport,

Close to train station,

In city center

Categories
Reviews for Dr. med. dent. Portmann Klaus
(6)
Services provided by Dr. med. dent. Portmann Klaus
2.

Die Aufnahme erfolgt mit einer kleinen Mundkamera. Die Restauration wird passgenau aus einem Keramikblöckchen geschliffen.

Price
On request
Ablauf einer CEREC-Behandlung

1.

Entfernung der erkrankten Zahnteil oder Füllungen. Vorbereitend für die Messaufnahme wird der Zahn gepudert.

Price
On request
3.

Durch Härten mit speziellem Licht kann die neue Füllung direkt belastet werden. Politur oder Glasur schaffen angenehm glatte, zahnartige Oberflächen. Farbgestaltung garantiert absolut zahnechtes Aussehen. Das perfekte Einkleben in den Zahn sichert extrem lange Haltbarkeit.

Price
On request
Similar entries in Bern
More in Bern
* does not want any advertising
Source: Swisscom Directories AG