Quick navigation
All Plastic, reconstructive and aesthetic surgery in Biel/Bienne
Dr. med. Wirth Raphael
FMH, Facharzt für Plastische, Rekonstruktive und Ästhetische Chirurgie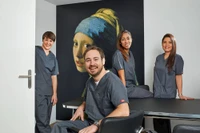 Plastic, reconstructive and aesthetic surgery in Biel/Bienne
Dr. med. Wirth Raphael – Contacts & Location
Monday

Mon

8

:

30

 to 

12

:

00

o'clock

/ 13

:

00

 to 

17

:

00

o'clock

Tuesday

Tue

8

:

30

 to 

12

:

00

o'clock

/ 13

:

00

 to 

18

:

00

o'clock

Wednesday

Wed

8

:

30

 to 

12

:

00

o'clock

/ 13

:

00

 to 

18

:

00

o'clock

Thursday

Thu

8

:

30

 to 

12

:

00

o'clock

/ 13

:

00

 to 

18

:

00

o'clock

Friday

Fri

8

:

30

 to 

12

:

00

o'clock

/ 13

:

00

 to 

17

:

00

o'clock

Saturday

Sat

Closed

Sunday

Sun

Closed

Das Telefon wird wie folgt bedient: 09:00-12:00/14:00-17:00.
Description
Herzlich Willkommen und Bienvenue bei Dr. med. Raphael Wirth
Facharzt für Plastische, Rekonstruktive und Ästhetische Chirurgie FMH

Ich höre Ihnen aufmerksam zu und respektiere Ihre Wünsche.
Es ist mir wichtig, dass Sie sich genügend Zeit nehmen die gefällte Entscheidung reifen zu lassen.
Ich werde Sie vor, während und auch nach der Behandlung begleiten.

Es ist mir äusserst wichtig zusammen mit Ihnen individuelle Lösungen auszuarbeiten.
Jedes Gesicht ist einzigartig und daran sollte auch gar nichts verändert werden. Wenn jedoch eine markante Nase oder abstehende Ohren dazu führen, dass Sie sich in Ihrer Haut nicht mehr wohl fühlen, kann durch einen relativ kleinen Eingriff eine Korrektur vorgenommen werden ohne dabei gelichzeitig Ihre Persönlichkeit zu verändern. Ebenso führt der natürliche Alterungsprozess im Gesicht zu mehr oder weniger starken Veränderungen, die Ihr Aussehen deutlich prägen. Durch den Verlust an Elastizität kommt es mit zunehmendem Alter zu einer vermehrten Faltenbildung. Das Unterhautgewebe und die Muskulatur erschlaffen, wodurch das Gesicht an Kontur verliert. Dem Plastischen Chirurgen stehen sowohl invasive wie auch nicht-invasive Verfahren zur Verfügung ungeliebte Merkmale und die Zeichen des Alterns zu korrigieren.
Faltenbehandlung
Mesotherapie
Stirnlifting
Augenlidstraffung
Facelifting
Nasenkorrektur
Ohrkorrektur
Lippenkorrektur
Kinnkorrektur
Halsstraffung
Lipofilling
Hauttumore
Für viele Frauen sind Form und Grösse der Brust nicht nur eine Frage der Figur, sondern ein ganz wesentlicher Aspekt des Selbstwertgefühls. Die Brust selbst ist Ausdruck der Weiblichkeit und von zentraler Wichtigkeit. Es besteht heute die Möglichkeit, die als störend empfundene Brustform und -grösse zu verändern und das persönliche Empfinden mit dem Körperbild in Einklang zu bringen. Selbstverständlich bedürfen sämtliche Operationen im Brustbereich, sei dies aus wiederherstellenden oder kosmetischen Gründen, höchste Sorgfalt und Präzision und sollten nur durch aus einen ausgewiesenen Facharzt in Plastisch, Rekonstruktiver & Ästhetischer Chirurgie durchgeführt werden. Mit den heute verfügbaren narbenschonenden Operationstechniken ist ein harmonisches und natürlich aussehendes Resultat gut zu realisieren.
Brustvergrösserung
Brustverkleinerung
Bruststraffung
Asymmetriekorrektur
Brustwarzenkorrektur
Brustrekonstruktion
Brustverkleinerung Mann
Man ist so jung, wie man sich fühlt... und anfühlt. Die verfeinerten Methoden der Ästhetischen Chirurgie können dazu beitragen, eine harmonische Körperform zu erhalten, wobei ein schöner Körper in erster Linie ein schön proportionierter Körper ist. Das eigentliche Körpergewicht ist dabei eher der Mode unterworfen. Wenn eine oder mehrere Körperregionen von einem harmonischen Körperbild abweichen, kann auf Ihren Wunsch hin eine entsprechende Korrektur vorgenommen werden. Für den Plastisch-ästhetischen Chirurgen von äusserster Wichtigkeit ist jedoch die Qualität der Haut. Diese ist entscheidend für den Erfolg der durchgeführten Behandlung und beeinflusst wesentlich den Heilungsverlauf.
Fettabsaugung
Bauchdeckenstraffung
Oberarmstraffung
Oberschenkelstraffung
Bodylift
Intimchirurgie
Narbenkorrektur
Schweissdrüsenentfernung
Lipofilling
Hauttumore
Languages

English,

French,

German

Consultation

Accepts new patients

Location

Close to train station,

In city center,

Parking site

Practice type

Clinic,

Individual practice

Specialist area

Plastic Surgery

Treatment by

Doctor (male)

Categories
Reviews for Dr. med. Wirth Raphael
(0)
Similar entries in Biel/Bienne
More in Biel/Bienne
* does not want any advertising
Source: Swisscom Directories AG