Quick navigation

Garage Rombocar Sagl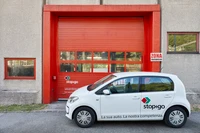 Garage Rombocar Sagl – Contacts & Location
Monday

Mon

8

:

00

 to 

12

:

00

o'clock

/ 13

:

30

 to 

18

:

00

o'clock

Tuesday

Tue

8

:

00

 to 

12

:

00

o'clock

/ 13

:

30

 to 

18

:

00

o'clock

Wednesday

Wed

8

:

00

 to 

12

:

00

o'clock

/ 13

:

30

 to 

18

:

00

o'clock

Thursday

Thu

8

:

00

 to 

12

:

00

o'clock

/ 13

:

30

 to 

18

:

00

o'clock

Friday

Fri

8

:

00

 to 

12

:

00

o'clock

/ 13

:

30

 to 

17

:

00

o'clock

Saturday

Sat

Closed

Sunday

Sun

Closed
Description
Storia
Fin dal 2006 la società RomboCar, impresa a conduzione famigliare, ha come obiettivo quello di fornirvi un lavoro di qualità che soddisfi tutte le vostre esigenze; grazie ad una vasta esperienza nel settore, alla sua cortesia e disponibità.
Il vostro garage RomboCar è qualificato su ogni marchio, ma oggi grazie alla collaborazione con la società stop+go che si occupa di garantire una fomazione continua, si pone come speciaista per le marche Volkswagen, Audi, SEAT, SKODA e VW veicoli commerciali.
Il Garage RomboCar, in collaborazione con stop+go, si prende cura a 360 gradi del vostro veicolo eseguendo lavori di alta qualità e professionalità!
Offre servizi di manutenzione e riparazione come cambio dell'olio, sistema di climatizzazione, sostituzione di batterie e freni, controllo gas di scarico, regolazione della geometria, check stagionali e molto altro ancora.
I servizi di carrozzeria variano dalla sistemazione di piccoli incidenti fino alla completa ricostruzione di essa.
Grazie a tester di ultima generazione esegue lavori di elettrauto ed effettua la ricerca di difetti.
Si dedica alla preparazione dei veicoli per i collaudi e alle modifiche tuning.
Vendita e cambio dei pneumatici come pure la sostituzione dei vetri e dei parabrezza.
Preventivi gratuiti e senza impegno!
Languages

English,

French,

German,

Italian,

Spanish

Brands

Alfa Romeo,

Audi,

BMW,

Citroen,

Dacia,

Fiat,

Ford,

Honda,

Hyundai,

Jaguar,

Kia,

Lancia,

Land Rover,

Lexus,

Mazda,

Mercedes-Benz,

Mini,

Mitsubishi,

Nissan,

Opel,

Peugeot,

Porsche,

Renault,

Seat,

Skoda,

Smart,

Subaru,

Suzuki,

Tesla,

Toyota,

VW,

Volvo

Checks & tests

inspection

Conversion & modifications

Accessories,

Tuning,

lacquering

Location

Close to public transport,

Close to train station,

Parking site,

Wheelchair-accessible

Repairs & service

Oil change,

Tire change,

Used accessories

Terms of payment

Accepts Credit-Card,

Accepts EC-Card,

American Express,

Bill,

Cash,

EUR,

Invoice,

Maestro,

Mastercard,

Paypal,

Visa

Vehicle types

New cars,

Occasions & Used Cars,

Vintage cars

Categories
Reviews for Garage Rombocar Sagl
(7)
Services provided by Garage Rombocar Sagl
Check invernale a fr. 49.-
L'inverno è ormai alle porte ed è importante non farsi cogliere impreparati da temperature rigide e strade innevate!
Elementi sottoposti a controllo:
Abitacolo (ad es. guarnizioni della porta, spie di controllo, riscaldamento, ventilazione e climatizzatore)
Vano motore (ad es. batteria, livello dell'olio motore, liquido dei freni, cinghia trapezoidale e cinghia trapezoidale nervata)
Carrozzeria (ad es. danni da pietrisco, parabrezza e spazzole tergicristalli)
Sul ponte sollevatore (ad es. sottoscocca, ammortizzatori, scarico, freni e sospesioni)
Pneumatici (ad es. profondità del battistrada, pressione di gonfiaggio e danni)
Promozione valida fino al 28 febbraio 2022
Price
49 CHF
Cambio ruote a fr. 40.- *
Approfitti della nostra competenza per montare i pneumatici invernali
Offerta valida fino al 28 febbraio 2022
* nel cambio ruote, l'equilibratura e la pulizia non sono comprese nel prezzo
Price
40 CHF
Similar entries in Taverne
More in Taverne
* does not want any advertising
Source: Swisscom Directories AG