Quick navigation
ABKG - AdvokaturBüro Kurt Gaensli - Rechtsanwälte
Anwaltskanzlei, Rechtsanwalt, Fürsprecher
RA Kurt Gaensli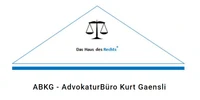 ABKG - AdvokaturBüro Kurt Gaensli - Rechtsanwälte – Contacts & Location
Monday

Mon

8

:

00

 to 

12

:

00

o'clock

/ 14

:

00

 to 

18

:

15

o'clock

Tuesday

Tue

8

:

00

 to 

12

:

00

o'clock

/ 14

:

00

 to 

18

:

15

o'clock

Wednesday

Wed

8

:

00

 to 

12

:

00

o'clock

/ 14

:

00

 to 

18

:

15

o'clock

Thursday

Thu

8

:

00

 to 

12

:

00

o'clock

/ 14

:

00

 to 

18

:

15

o'clock

Friday

Fri

8

:

00

 to 

12

:

00

o'clock

/ 14

:

00

 to 

18

:

15

o'clock

Saturday

Sat

Closed

Sunday

Sun

Closed

By appointment

Anwalt der 1. Stunde, Tel. 033 225 55 55, 5 x läuten lassen
Description
Rechtsanwälte Kurt Gaensli & Partner ABKG - AdvokaturBüro Kurt Gaensli in Thun
100 Jahre Rechtsanwaltpraxis = Beweis für den Erfolg z. G. unserer Mandanten
Wir sind für Sie im Haus des Rechts® tätig an der Laubeckstr. 1 in 3600 Thun, als
Rechtsanwalt oder Fürsprecher, Anwalt
Rechtsberater
Rechtsvertreter für Kläger oder Beklagte
Mediator
Rechtsverteidiger
Strafverteidiger
Opferhilfeanwalt
Inkassostelle
Verwalter
Verteidiger
Willensvollstrecker
Anwalt der ersten Stunde
Scheidungsanwalt
Erbrechtsanwalt
Wir arbeiten für Sie ...
als unabhängige Rechtsanwälte mit Kompetenz, unter Wahrung des Anwaltsgeheimnisses und aller Rechtsgrundsätze des Rechtsstaates.
vor allen Gerichten in der Schweiz. Unsere verschiedenen Rechtsgebiete finden Sie in der Rubrik "Rechtsgebiete".
zielorientiert und im Namen unserer Klienten. Wenn nötig sind wir auch als "Anwalt der ersten Stunde" und rund um die Uhr für Sie tätig. In Partnerschaften mit einem Treuhandbüro, einem Notaren und Steuerexperten können wir Sie umfassend beraten und vertreten. Durch unsere juristische Verbindung mit einer Londoner Anwaltskanzlei im Grey's Inn vertreten wir auch mit dem Ausland vernetzte Fälle in der Schweiz oder sind Bindeglied in ausländischen Fällen im englischsprachigen Raum.
mit jahrzehntelanger Erfahrung und umfassender Aus- und Weiterbildung.
Dies verbürgt die hohe Qualität unserer Dienstleistungen. Unser Büro blickt mit 3 Rechtsanwälten auf über 100 Jahre Rechtstradition zurück, die sich teilweise auch in Bundesgerichtsurteilen widerspiegelt. Angehörige des Familiengeschlechts sind seit dem 14. Jh. mit dem Recht verbunden (siehe Gaensli unter www.gaensli.ch
Auch nach dem Urteil sind wir für Sie als Rechtsanwalt weiter da. Wir setzen das errungene Recht zielstrebig und rasch um, bzw. durch.
Und: Unsere Klienten entscheiden, ob ein Fall aussergerichtlich, gerichtlich oder über die Mediation zu lösen ist.
Version:1.0 StartHTML:000000190 EndHTML:000025919 StartFragment:000025680 EndFragment:000025835 StartSelection:000025680 EndSelection:000025835 SourceURL:https://www.advogaensli.ch/100 Jahre Rechtsanwaltpraxis = Beweis für den Erfolg z. G. unserer Mandanten - gaensliks Jimdo-Page!
Unsere bevorzugten Rechtsgebiete sind:
Familienrecht
Scheidungsrecht
Trennungsrecht
Bäuerliches Scheidungsrecht
Kindsrecht

Erbrecht
Erbrecht
Testamentserrichtung
Strafrecht
Strafverteidigung
Militärstrafrecht
Kriegsmaterialrecht
Strassenverkehrsrecht
Waffenrecht
Wirtschaftskriminalfälle mit Buchhaltungsvorgängen
Haftpflichtrecht
Haftpflichtrecht

Vertragsrecht
Arbeitsrecht
Kaufvertragsrecht
Mietrecht
Gesellschafts- und Firmenrecht

Verwaltungsrecht
Bau- und Planungsrecht

Erwachsenenschutz
Beistandschaft
Vorsorgeauftrag
FU
Patientenverfügung
Vollstreckungsrecht
Schuldbetreibungs- und Konkursrecht
Inkassomassnahmen
Languages

English,

French,

German

Areas of expertise

Administrative law,

Arbitration court,

Association law,

Bankruptcy & debt collection law,

Business law,

Children's rights,

Construction & planning law,

Contract law,

Corporate & company law,

Criminal defence,

Criminal law,

Debt enforcement,

Divorce law,

Execution of wills,

Family law,

Inheritance law,

Labour law,

Liability law,

Migration law,

Military criminal law,

Patient decrees,

Procedural law,

Road traffic law,

Sales contract law,

Sports law,

Tax law,

Tenancy law,

War material law,

Weapons law

Forms of contact

By telephone,

Online

Location

Close to public transport,

Close to train station,

In city center,

Parking site,

Wheelchair-accessible,

Wheelchair-accessible parking,

With view

Categories
Reviews for ABKG - AdvokaturBüro Kurt Gaensli - Rechtsanwälte
(20)
Comments
(16)
Verified visit
sehr gute Anwaltskanzlei
erfahren, schlagfertig, gründlich, allzeit erreichbar und menschlich mit Klientenumgang
June 27, 2023, harrybucher33
Empfehlenswerte Kanzli
Sehr gute Anwaltskanzlei mit 4 Anwälten, hilfsbereit, lösungsorientiert und was wichtig ist, die Kanzlei handelt speditiv. Ich bin vollständig zufrieden und kann diese Kanzlei nur empfehlen.
Similar entries in Thun
More in Thun
* does not want any advertising
Source: Swisscom Directories AG