Boit'askis
Sporting goods
Skis Snowboard Carving
vente, consigne, réparation, location de matériel
Contacts & location
027...Show number
027 771 34 87
027...Show number
027 771 50 87
Overview
English, French, German, Italian, Portuguese, Spanish
Accepts EC-Card, American Express, Bill, Cash, Diners Club, EUR, Maestro, Mastercard, Postcard, TWINT, Visa
Close to public transport, Close to sports facilities, In the mountains, Mountain view, Parking site, With view
Position cannot be determined.
×
Panorama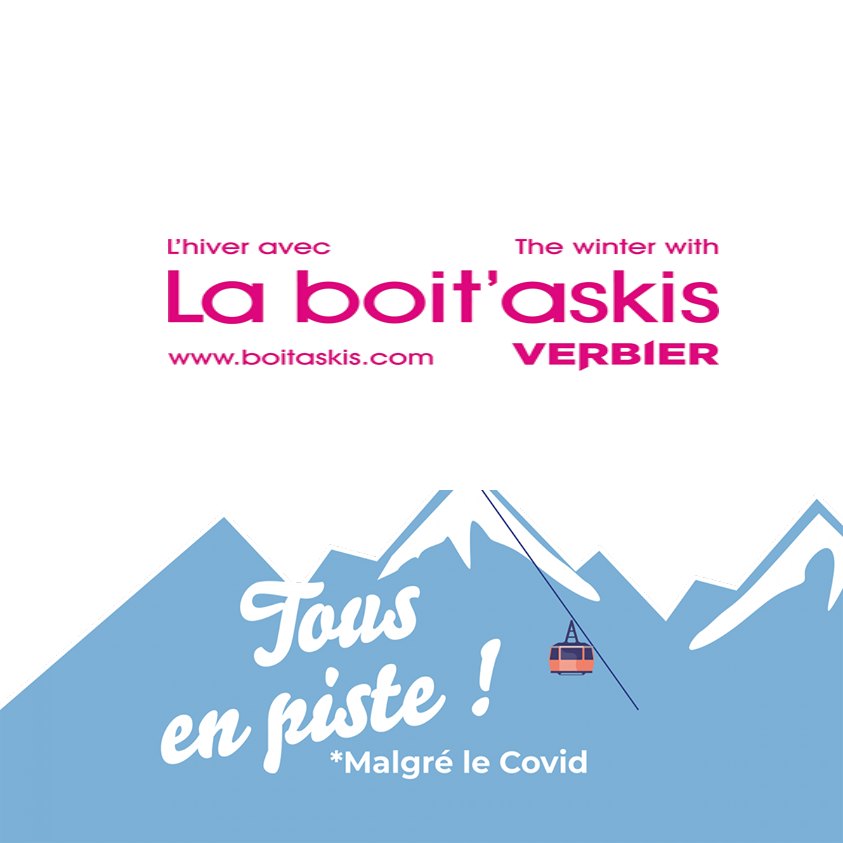 La boit'askis votre magasin de location et vente de skis, surfs et accessoires.
Idéalement située au départ des remontées mécaniques de Médran à Verbier, la boit'askis est ouverte non-stop  08h30 19h00 la saison d'hiver.
Spécialiste dans les sports d'hiver, la boit'askis, c'est 380m2, où vous trouverez un grand choix d'accessoires techniques et le plus grand parc de location de skis et surfs de Verbier.

Par amour du ski, Pierrot Michaud, guide et professeur de ski, fonda la boit'askis en 1989. Avec son équipe de professionnels, il sera ravi de vous accueillir et vous guidera en fonction de vos attentes et de votre niveau de ski.   
Un service complet pour les skieurs
Soucieux du bien-être de nos clients, nous offrons un service de consigne dans notre magasin. Louez vos skis, surfs, avec nos skimen puis en fin de journée pour l'après-ski, laissez vos skis et chaussures dans notre magasin la nuit et récupérez les le lendemain, avec des chaussures de skis ou boots séchées et désinfectées. Un ski abîmé ou usé ? Renseignez-vous auprès de l'atelier pour faire réparer vos skis. 
 
Vous êtes un habitué de la boit'askis à Verbier et souhaitez réserver votre paire de skis, surfs et chaussures avant votre arrivée ? Complétez pour cela le formulaire de contact en précisant dans "votre demande" qu'il s'agit d'une demande de réservation d'équipement de ski.
la boit'askis! Ski and snowboard for everyone!

Ideally located at the start of the ski lift from Médran to Verbier, la boit'askis is open non-stop 08h30 - 19h00 in the winter season. la boit'askis is a winter sports specialist with 380m2 of space where you will find a large selection of technical accessories and the largest stock of skis and snowboards in Verbier.

Passionate about skiing, Pierrot Michaud, a guide and ski instructor, founded la boit'askis in 1989. Along with his team of professionals, he will be delighted to welcome you, and will guide you according to your requirements and level of skiing.    
A complete service for skiers
Concerned about the well-being of our customers, we offer a locker service in our shop. Rent your skis and snowboards from our ski men. For après-ski at the end of the day, leave your skis and boots in our shop overnight and collect them the next day, with the ski boots or boots dried and disinfected. Are your Skis damaged or worn? Ask in the repair shop to have your skis repaired. 
 
Are you a regular visitor to la boit'askis in Verbier and wish to pre-book your skis, snowboards and boots before you arrive? In order to do so, fill in the contact form specifying in "your request" that it is a request for pre-booking ski equipment.
What visitors say about Boit'askis
Source: Swisscom Directories AG