Quick navigation

Corabois SA
commerce de bois, raboterie et parquets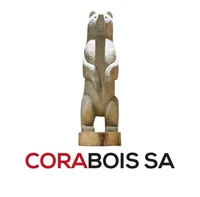 Corabois SA – Contacts & Location
Monday

Mon

7

:

00

 to 

12

:

00

o'clock

/ 13

:

00

 to 

18

:

00

o'clock

Tuesday

Tue

7

:

00

 to 

12

:

00

o'clock

/ 13

:

00

 to 

18

:

00

o'clock

Wednesday

Wed

7

:

00

 to 

12

:

00

o'clock

/ 13

:

00

 to 

18

:

00

o'clock

Thursday

Thu

7

:

00

 to 

12

:

00

o'clock

/ 13

:

00

 to 

18

:

00

o'clock

Friday

Fri

7

:

00

 to 

12

:

00

o'clock

/ 13

:

00

 to 

18

:

00

o'clock

Saturday

Sat

Sunday

Sun

Closed

Dépôt: Il ferme à 17h du lundi au jeudi et à 16h30 le vendredi (fermé le samedi). Notre showroom sera exceptionnellement fermé le samedi 2 décembre 2023 pour inventaire.
Description
CORABOIS SA
CORABOIS SA est une entreprise spécialisée dans le commerce du bois. Elle existe depuis 1939 et compte aujourd'hui près de 40 employés.
Nos conseillers/ères de vente (au dépôt et à l'exposition) sont à votre entière disposition pour vous fournir, sur place, par téléphone ou par mail, tous les renseignements dont vous auriez besoin concernant nos produits, ainsi que pour les fabrications spéciales.
CHARPENTE, MASSIF, LISTERIE, COFFRAGE, LAMBRIS, PANNEAU, MENUISERIE, PARQUET, PEINTURE, JARDIN

Showroom
Venez visiter notre Showroom où plus de 500 échantillons de produits (Bardage & Lambris, Parquets, Plans de travail, Portes et Terrasses…) sont exposés sur 2 niveaux.
Dépôt de marchandise
Nous avons près de 6'000 références d'articles en stock dans les gammes de produits suivantes : Bois de construction, Bois Massif, Coffrage, Consommables, Façade, Isolation, Jardin & Terrasse, Lambris, Panneaux Massif, Panneaux Particule, Porte, Sol et Traitement
Service de livraison
En principe, les livraisons s'effectuent sur les cantons de Genève et Vaud.
Atelier de débitage
Pour vos débits par nos techniciens spécialisés et hautement qualifiés, deux scies horizontales à panneaux, une bordeuse, une CNC, une déligneuse, une raboteuse 4 faces et une tronçonneuse calibreuse pour charpente, carrelets, lambourdes et bois massif selon vos besoins.
Historique
1939 – Création
A l'origine, l'entreprise était une scierie qui imprégnait des poteaux électriques et fabriquait des pavés de sol, livrés sur toute la Suisse.
1960 – Evolution
Cette activité de sciage et d'imprégnation commençant à régresser dans les années 1960, Monsieur Paul BINGGELI, qui dirigea la société jusqu'en 1986, dû trouver d'autres débouchés et commença alors à développer un négoce de bois massif.
1980 – Essor
C'est en 1980 que l'usine d'imprégnation des bois connut un nouvel essor et devint CORABOIS SA, lors de son rachat par le groupe BALTESCHWILER.
1986 – Flambeau
En 1986, Monsieur Alain TRUCHET prend la Direction de CORABOIS SA en succédant à Monsieur Paul BINGGELI qui prend sa retraite.
De 1986 à 2017, Monsieur Alain TRUCHET continue à développer le négoce du bois massif, croisés, agglomérés et dévirés de toutes sortes.
2002 – Nouveau site
En 2002, grâce à son nouveau site de Vernier, l'entreprise se développe considérablement en augmentant sa capacité de négoce.
2017 – Actuel
Monsieur Rémy CONDEVAUX, après 27 années au service de CORABOIS SA, reprend la Direction de l'entreprise en 2017.
Il augmente encore la capacité de négoce de l'entreprise grâce é l'acquisition de machines modernes et informatisées.
Languages

English,

French

Application areas

Commercial buildings,

Hotels & Gastronomy,

Residential buildings

Area

Removal & Disposal

Area of activity

Woodwork

Carpentry & Wood construction

Parquet

Forms of contact

By telephone,

Free consulting,

In-store,

On the customer's premises,

Online

Location

Close to airport,

Close to public transport,

Close to train station,

In city center,

Parking site

Machine Fleet

CNC Technology

Scope

Production

Services

Exhibition

Terms of payment

Accepts Credit-Card,

American Express,

Bill,

Cash,

Contactless payment,

Invoice,

Maestro,

Mastercard,

Postcard,

TWINT,

Visa

Categories
Reviews for Corabois SA
(5)
Comments
(2)
Verified visit
Conseil
Très professionnel
October 26, 2021, melody.institutangel
Services
Merci pour l'excellent travail. En particulier à M. Viala et son équipe.
September 22, 2021, raphaelmonnet
Merci pour votre retour, à bientôt.
October 26, 2021, Corabois SA
Services provided by Corabois SA
Similar entries in Vernier
More in Vernier
* does not want any advertising
Source: Swisscom Directories AG