Quick navigation

Neuchâtel City Hôtel
Hôtel
Loisirs Côté Vacances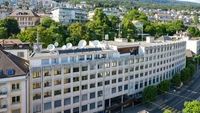 Neuchâtel City Hôtel – Contacts & Location
Opening times Neuchâtel City Hôtel
Unfortunately, there are no opening hours for this business.
Description
Neuchâtel City Hôtel
French-speaking capital of the Swiss canton of Neuchâtel, the city of Neuchâtel is located on the north shore of the lake of the same name. Its medieval old town extends from the castle of Neuchâtel, dating from the 12th century. Nearby, the Collegiate is a Gothic church built in the same period. In the Jura massif, to the west of the city, the Creux du Van is a canyon similar to an amphitheater, offering hiking trails and panoramic views. By staying at the Neuchâtel City Hotel you will enjoy a privileged location in the city center near its pedestrian streets and its many restaurants and only five hundred meters from the CFF train station. From the shores of the lake and the old port, just a few streets away, you can admire an exceptional panorama overlooking the Alps.
Languages

Albanian,

Dutch,

English,

French,

German,

Italian,

Portuguese,

Slovak,

Spanish

Accessibility

Assistance animals welcome

Accommodation type

Bed & breakfast,

Business hotel,

Hotel

Ambience

Bistro,

Business,

Cozy,

Elegant,

Festive,

Lounge,

Middle class,

Modern,

Romantic,

Tea-room,

Traditional,

Winery

Amenities

High chairs,

Kids chair,

Wifi,

internet

Cuisine

Italian

Equipment

Bar,

Family friendly,

Free Wi-Fi,

Restaurant,

Seminar rooms,

Spa & wellness

Forms of contact

By telephone,

Free consulting,

Online

Haircut

Head massage

Location

Close to airport,

Close to museum,

Close to public transport,

Close to sports facilities,

Close to train station,

In city center,

In old town,

Lake view,

Mountain view,

Parking site,

With view

Meals

All-inclusive,

Breakfast,

Full board,

Half board

Room amenities

Children's beds,

Coffee machine,

Desk,

Family rooms,

Hair dryer,

Microwave,

Minibar,

Private bathroom,

TV,

Terrace/balcony,

Washing machine & dryer

Service

24-hour front desk,

Massage,

Room service

Services & offer

Afternoon snack,

All you can drink,

All you can eat,

Animals accepted,

Aperitif,

Banquette hall,

Bar,

Breakfast,

Brunch,

Business lunch,

Conference,

Dinner,

Event organising,

Groups,

Kids' menu,

Lunch,

Wine cellar

Terms of payment

Accepts Credit-Card,

American Express,

Apple Pay,

Cash,

Contactless payment,

EUR,

Maestro,

Mastercard,

Paypal,

Postcard,

TWINT,

USD,

Visa

Categories
Multimedia
Reviews for Neuchâtel City Hôtel
(0)
Similar entries in Neuchâtel
More in Neuchâtel
* does not want any advertising
Source: localsearch.ch