Quick navigation
All Speciality shop in Rivera
Speciality shop in Rivera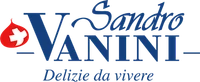 Sandro Vanini SA – Contacts & Location
Opening times Sandro Vanini SA
Unfortunately, there are no opening hours for this business.
Description
Mediterranean Products in Swiss Quality
Sandro Vanini SA still manufactures their products using original recipes, just like Grandfather Vittorio Vanini did starting in 1871. Beginning with Marrons Glacés, Sandro Vanini now offers a wide range of specialities based on various fruits and vegetables. The product range is marketed both under the company's brand as well as under private labels. Bulk products are also supplied to numerous well-known industrial operations in Switzerland and abroad. Swiss quality is an important element to Sandro Vanini's success which along with the best fruits and careful preparation provides excellent results.

Sandro Vanini's wide variety of products ranges from sweet to spicy. For gourmets the company's Marrons Glacés and Chestnut Purées are the most classical products. Grated citrus peels or candied fruits are ideal ingredients both at home and in bakeries. The Mostarda Purées and Fruit Mostarda are wonderful, especially when combined with cheese, cold cuts and meat. Sandro Vanini's products bring Ticino, the sunny corner of Switzerland, to the tables of interested connoisseurs
Vision
Sandro Vanini is a leading manufacturer of custom-made products in the food sector and of sophisticated high-quality fruit specialities from Ticino.
Mission
Using selected ingredients, typically Mediterranean creativity and a Swiss eye for quality, we create and produce unique and tasty fruit specialities for discerning clients and connoisseurs, and market these either directly or via sales partners.
Values
Creativity, passion, care, expert solutions, flexibility and courage.
Reviews for Sandro Vanini SA
(1)
More in Rivera
* does not want any advertising
Source: Swisscom Directories AG