Quick navigation
All Nursing and home care association in Chailly-Montreux
MSG soins Sàrl
soins et accompagnement à domicile
Nursing and home care association in Chailly-Montreux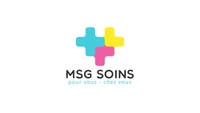 MSG soins Sàrl – Contacts & Location
Monday

Mon

8

:

00

 to 

12

:

00

o'clock

/ 13

:

30

 to 

17

:

30

o'clock

Tuesday

Tue

8

:

00

 to 

12

:

00

o'clock

/ 13

:

30

 to 

17

:

30

o'clock

Wednesday

Wed

8

:

00

 to 

12

:

00

o'clock

/ 13

:

30

 to 

17

:

30

o'clock

Thursday

Thu

8

:

00

 to 

12

:

00

o'clock

/ 13

:

30

 to 

17

:

30

o'clock

Friday

Fri

8

:

00

 to 

12

:

00

o'clock

/ 13

:

30

 to 

17

:

30

o'clock

Saturday

Sat

Closed

Sunday

Sun

Closed

Timetable for the secretariat only
Description
MSG Soins Sàrl - Home care and home help company!
Who are we?
MSGsoins Sàrl is a home care and home help company with qualified and experienced staff to meet all your needs.
We offer our services to all people requiring special care at home regardless of age, illness or religion.
Our Commitment
We are committed to providing quality services to meet the specific needs of each individual by allowing them to stay in their own home in safety and comfort.
All home care services are provided on medical prescription. As the costs are set by the State, our rates are in line with the public service.
MSGsoins Sàrl is obliged to carry out an evaluation according to uniform criteria to assess the general condition of the patient and his or her environment.
Home help and care is intended for people of all ages, who are temporarily dependent or permanently ill or disabled, as well as their relatives.
We are happy to come to your home for a first contact without obligation.
We will be happy to help you find your way around your family environment and keep you on your feet.
Our main services:
Evaluation and specific analysis of your needs
Care
Hygiene and comfort care support and accompaniment
To compensate for loss of autonomy (getting dressed, getting up and going to bed, mobilization, etc.).
Preparation of drug treatments
Nursing care (blood tests, injections, infusions, dressings, etc.)
Counselling relationship
Complementary services
Meal preparation and preparation
Home maintenance (cleaning, laundry, ironing)
Accompaniment during your travels
For more information, please visit our website : HERE
Our mission:
To offer an easier daily life on a medical and human level to all people needing an accompaniment, regardless of their age, religion or denomination.
Languages

French

Location

Close to public transport,

Lake view,

Mountain view,

Parking site,

Wheelchair-accessible,

With view

Terms of payment

Cash,

Invoice

Categories
Reviews for MSG soins Sàrl
(7)
Similar entries in Chailly-Montreux
More in Chailly-Montreux
* does not want any advertising
Source: Swisscom Directories AG